Confined Space and Inaccessible Area Mapping with Elios 3
In the ever-evolving landscape of technological innovation, the utilization of drone technology has emerged as a transformative force in the inspection of challenging environments, previously deemed inaccessible or perilous.
As industries ranging from infrastructure and energy to disaster response and maintenance grapple with the need to navigate intricate, confined, or hazardous spaces, drones have swiftly risen to the forefront as invaluable tools for conducting efficient, safe, and comprehensive inspections.
With each passing day, these unmanned marvels are pushing the boundaries of what's achievable, propelled by advancements in mobility, sensor capabilities, and autonomous navigation, ultimately revolutionizing our approach to understanding and managing the most complex and demanding spaces on our planet.
The client in this case was a large construction company and developer who had been tasked to build and develop an area of land to the South of London.
Having drilled small bore holes voids had been detected and further historical investigation revealed the possible presence of World War 2 air raid shelters.
Iprosurv were tasked to further investigate these voids and record their findings digitally for the client.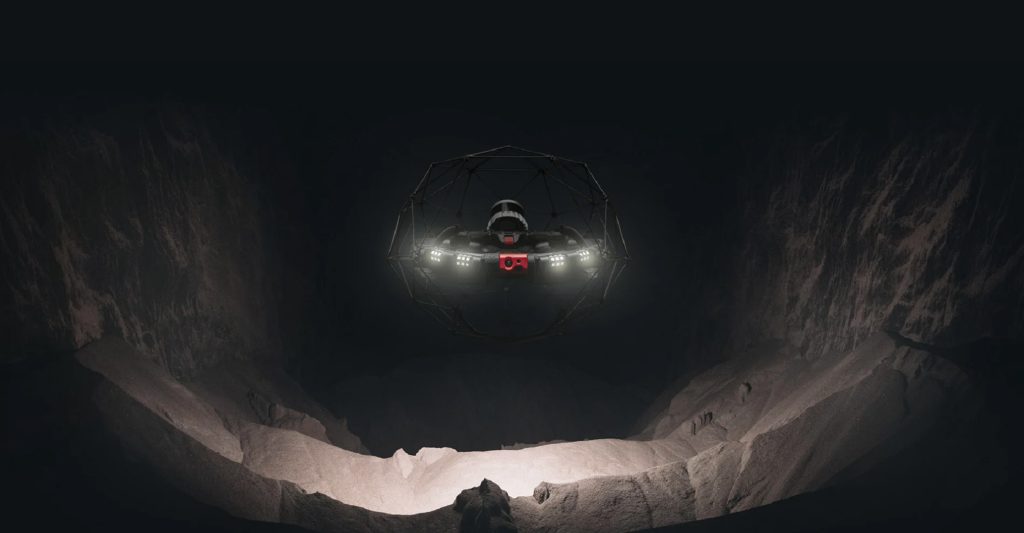 Drone
Elios 3 Drone relying on the power of computer vision and LiDAR mapping, Elios 3 is a versatile indoor drone opening doors to a world where performing systematic inspections does not require months of training, reporting is done intuitively on a 3D model of your asset, and situational awareness is built into the piloting app.
Software Outputs
Point cloud
3D Model
Images
Video
Traditional methods of inspecting hard-to-reach, hazardous, and confined spaces have long relied on a combination of ingenuity, specialized equipment, and skilled personnel.
These challenging environments, often found in industries such as manufacturing, construction, and maintenance, demand meticulous inspection to ensure safety and compliance.
Workers have historically used techniques like visual assessments with handheld tools, mirrors, and flashlights, relying on their physical dexterity to access tight spaces. In more complex cases, personnel equipped with protective gear would navigate confined areas to conduct inspections.
However, these methods are not only labour-intensive and time-consuming but also pose significant risks to workers' safety.
Using the historical drawings as a guide we worked with the developer to excavate larger entrances circa 800mm to the possible air raid shelters.
We performed ground-based laser scans of the portals and surrounding areas to assist in geo-referencing the imagery and tying into the 3D model we would create.
We launched the Elios 3 UAV with a transmission range extender from various launch sites and portals to attempt to map the underground structure.
Having flown more than ten missions taking Hi-Res 4K video we were able to collect thousands of overlapping images to attempt to build up a picture of what existed.
Having flown more than ten missions taking Hi-Res 4K video we were able to collect thousands of overlapping images to attempt to build up a picture of what existed.
Having reviewed the images a 3D colourised point cloud was created and given to the client formally identifying the existence of the WW2 shelters placing no one at risk and being conducted in one day on site with a further week of processing time.
A video was produced from the imagery and scans to give a clear picture to the client of exactly what was beneath without which time consuming and incomplete standard survey techniques being used and risky confined space entry being deployed.
Advances in technology have led to the development of remote-controlled vehicles, drones, and specialized cameras that can be deployed to navigate and capture real-time visual data from these spaces, reducing the need for human entry and minimizing exposure to hazards.
Such innovations are transforming the landscape of inspection practices, enhancing efficiency, accuracy, and safety in industries where these challenges are prevalent.