Drones Assist After Village Fire
With the fires having only been extinguished a few days earlier the environment was extremely dangerous still, with a number of buildings completely burnt out and barely standing. Access to the village and movement around it was restricted due to the conditions and the post-incident operation that was underway.
Gaining access to the buildings to carry out traditional surveys for insurance loss purposes was not possible due to the obvious risks of collapse. In order to allow the people of Wennington to begin to rebuild their lives it was clear there was a need to provide information to allow for assessments of the damage to be made quickly using digital media only.
A total of 19 homes were completely destroyed in the blaze, with the fire being seen at one point to leap across a two-lane road running through the middle of the village.
During the spell of record-breaking temperatures that hit Europe this Summer, a large fire broke out in Wennington Village, East London on 19 July 2022.
The fire involved multiple properties and an area of adjacent grassland; over 100 firefighters were tasked with tackling the blaze at its peak. Several properties in the village were completely destroyed in the fire, with others severely damaged.
Due to the high number of affected properties and level of damage, a major incident was declared. The event was covered across numerous national news outlets who reported that the fire started in a compost heap nearby.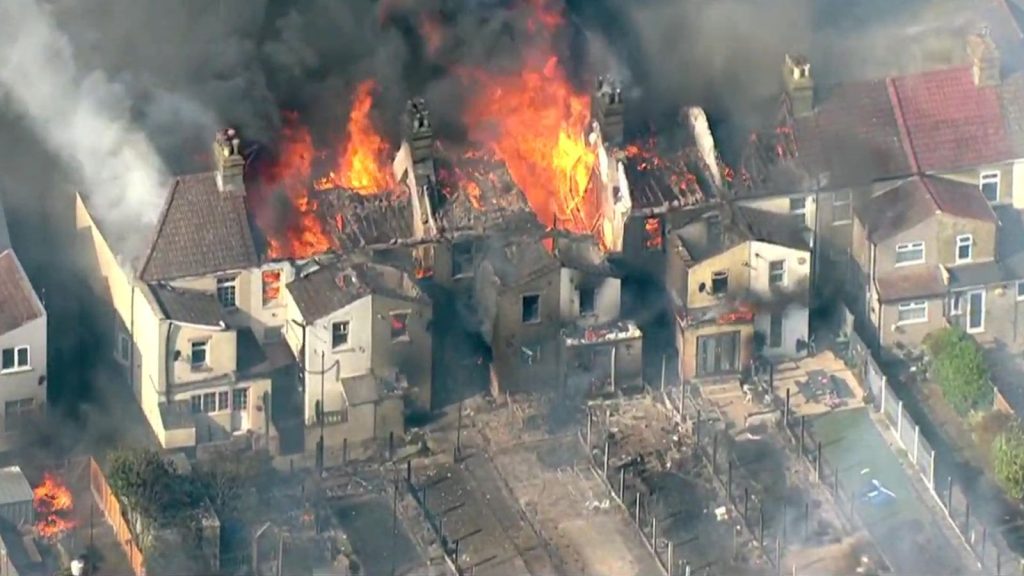 Drone
The DJI M210 is a commercial level drone with IP rating and is capable of extended flight time and the ability to carry multiple payloads (cameras and sensors) which makes the M210 a very versatile drone for almost any application.
Software Output
3D interactive model with reporting capability for client to produce white labelled reports.
Using traditional methods would involve loss adjusters, insurers, and other stakeholders arriving on site with very little information and assessing the damage, speaking to affected parties and assessing damage, all this when, in such extreme cases, affected people are trying to seek alternative accommodation, and basically trying their best to carry on.
Assessing the damage to each property and attempting to triage needs such as alternative accommodation can be challenging on such a large scale.
There are also inherent problems and risks with access, often in such cases access is very limited due to emergency services on site.
Once emergency services have left there are still problems with access to site due to unsafe structures and other associated risks and challenges.
Deployment of drones is quick, cost effective and reduces the immediate health and safety risks on site.
Using drones to fly a pre-programmed semi-autonomous flight plan the drone is able to gather data from every angle, using specialist software the data is able to be transformed into an interactive model which can be analysed and investigated on site or from desktop.
Initial reports can be formulated and distributed, the data set can also be shared with multiple stakeholders such as, structural engineers, forensics, fire investigation, contractors to plan access and scope of works…and many more.
This data set is then a permanent record and can be investigated at later dates to assess progress of building works and re visiting for claims clarification.
The Wennington fire was a devastating event that destroyed 30 houses and displaced hundreds of people.
However, drones played a vital role in the firefighting efforts, providing real-time aerial footage of the fire and helping firefighters to identify and target hot spots.
Drones can also be used to assess the damage caused by fires, floods, and other environmental events, and to help with search and rescue operations.
As drones become more sophisticated and affordable, they are likely to play an increasingly important role in responding to large-scale emergencies."