Forestry Windblown Events
Forestry Windblown Events, The monitoring and observance of forests and woodlands can pose a tiresome and exhaustive process in a sense that requires an abundant amount of workforce and skills and appropriate resources. Accounting to be a major challenge of forestry, surveillance of forestlands is done to ensure the prevention of dangerous undertakings that lead to greater hazards to nature. In forest fires, illegal felling of trees, etc.
When a major catastrophic event hits such as a storm which can affect extremely large areas forestry managers and owners are under intense pressure to assess, plan, and implement the clean-up operation this could involve hundreds and thousands of Hectares of land. Drone tech in forestry windblown events can be an invaluable easily deployable safe and cost-effective solution to gather essential data for better decision-making.
On top of this, there is the task of replanting to get the land back to normal as soon as possible.
In November 2021 parts of the UK and predominantly the Scottish Borders and Cumbria were hit with winds gusting more than 100mph with the highest being 101mph in Northumberland.
As well as devastation to property, infrastructure, and utilities, large areas of woodland were devastated with more than approximately 1 million Metric tonnes of windblown trees and an estimated 4000 hectares of land (just smaller than Dundee) with over 8 million trees and roughly 1/3 of what would be felled nationally in a given year.
Although windblown events are rare and hard to predict, when they happen the after-effects can be devastating with forestry management plans shattered, plans that could have been planned to encompass forest management and timber felling and replanting, sustainability for the next 5 or 10 years.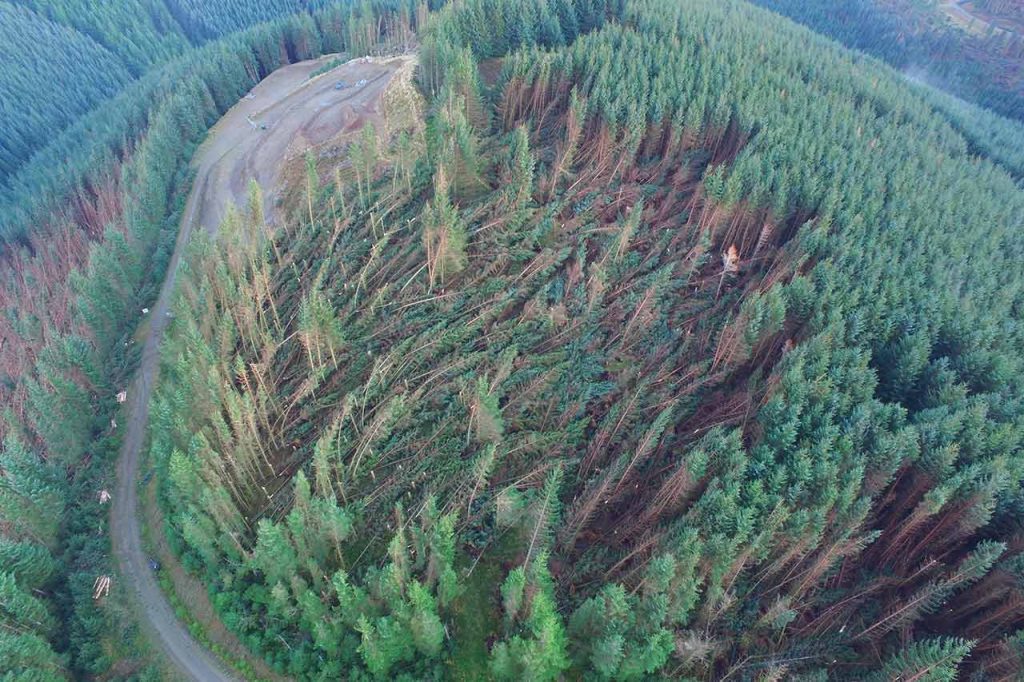 Traditional methods could involve people on the ground to asses the damage.
Windblown areas can be highly dangerous areas with uprooted trees blocking access partly fallen and weak trees ready to fall at any time, some weighing over 3500 kilos (3.5 tonnes) creating a serious risk to life for forest workers.
More traditional methods have been helicopters which are costly and could take time to arrange and then process the data.
Utilising drone technology at the right time can improve workflow by gathering vital data in the hours and days after an that can help facilitate quicker applications for felling, understanding the site and the extent of the damage, access routes, damage to utilities and other structures, priority clearance.
If the data is collected correctly the production of Ortho-mosaic topography, lidar maps, digital terrain models, digital surface models.
Multiple file formats Tif, Tiff for import into GIS high-definition JPEG, 4k video, LIDAR, NDVI and NDRE, Thermal the information using the correct platform such as Iprosurv's proprietary platform could be shared instantly with multiple stakeholders, insurers, loss adjusters, government organisations, contractors, forestry managers, and owners but to name a few.
Once on site with the 3 man drone team the 5 operations were undertaken over 250 Hectares of land to be covered the operation took approximately 8 hours to complete, once complete the data was instantly uploaded on site to produce an orthographic file in TIF format to be used in QGIS also produced was a DTM (Digital Terrain Model) in Tif format which could be used in conjunction with the RGB data to confirm damage. As an added feature for the client with the same data we produced a low resolution 3d model that would give a different perspective than 2D.